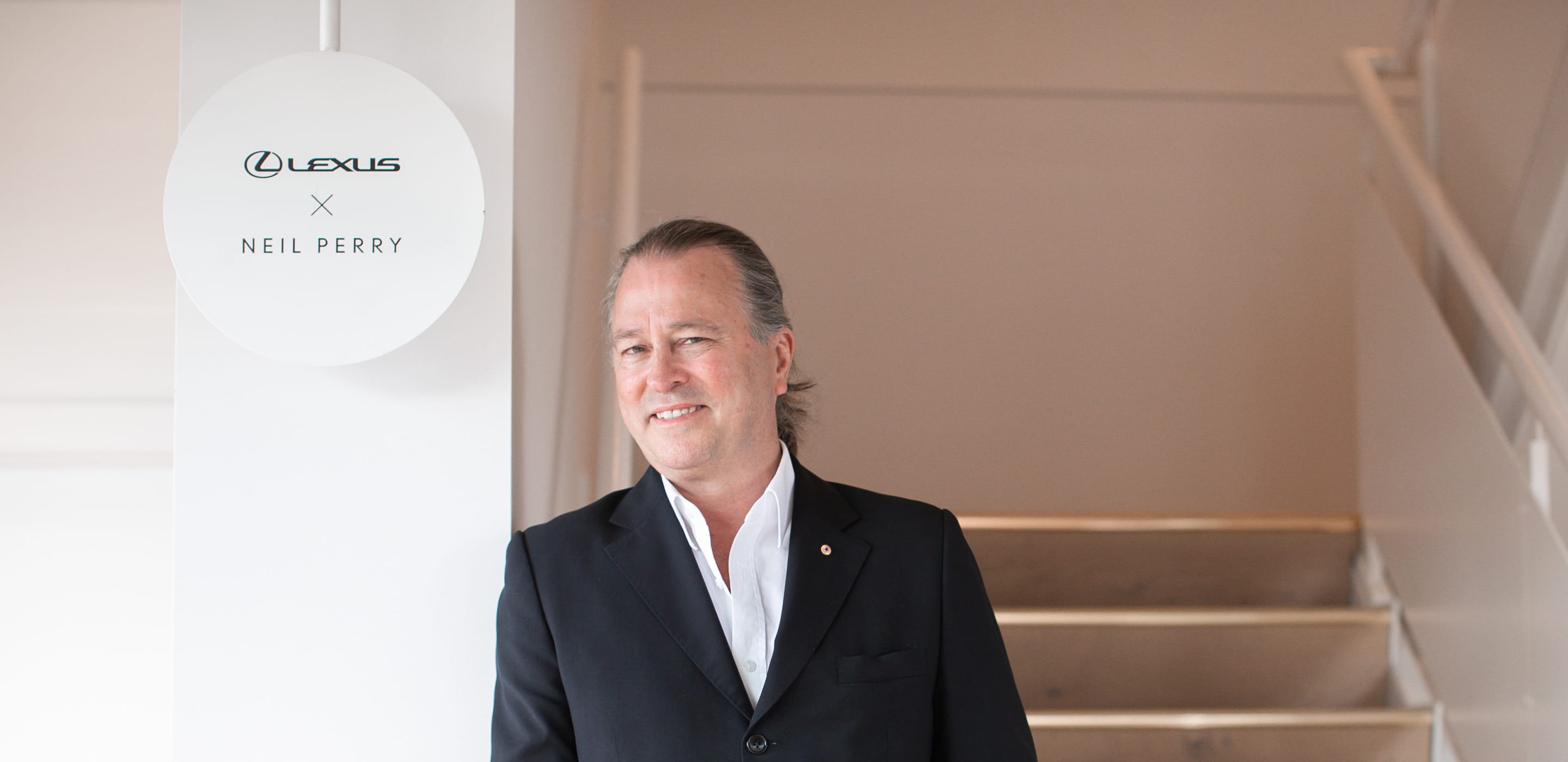 Landmark by Lexus
Culinary
experiences
Create your own culinary experience at home with these recipes from LANDMARK by Lexus at the 2019 Lexus Melbourne Cup.
Each recipe has been crafted in collaboration with Lexus by renowned chefs; Matt Stone and Jo Barrett from Oakridge, Dan Chan from Eazy Peazy and Lexus ambassador Neil Perry from Rockpool.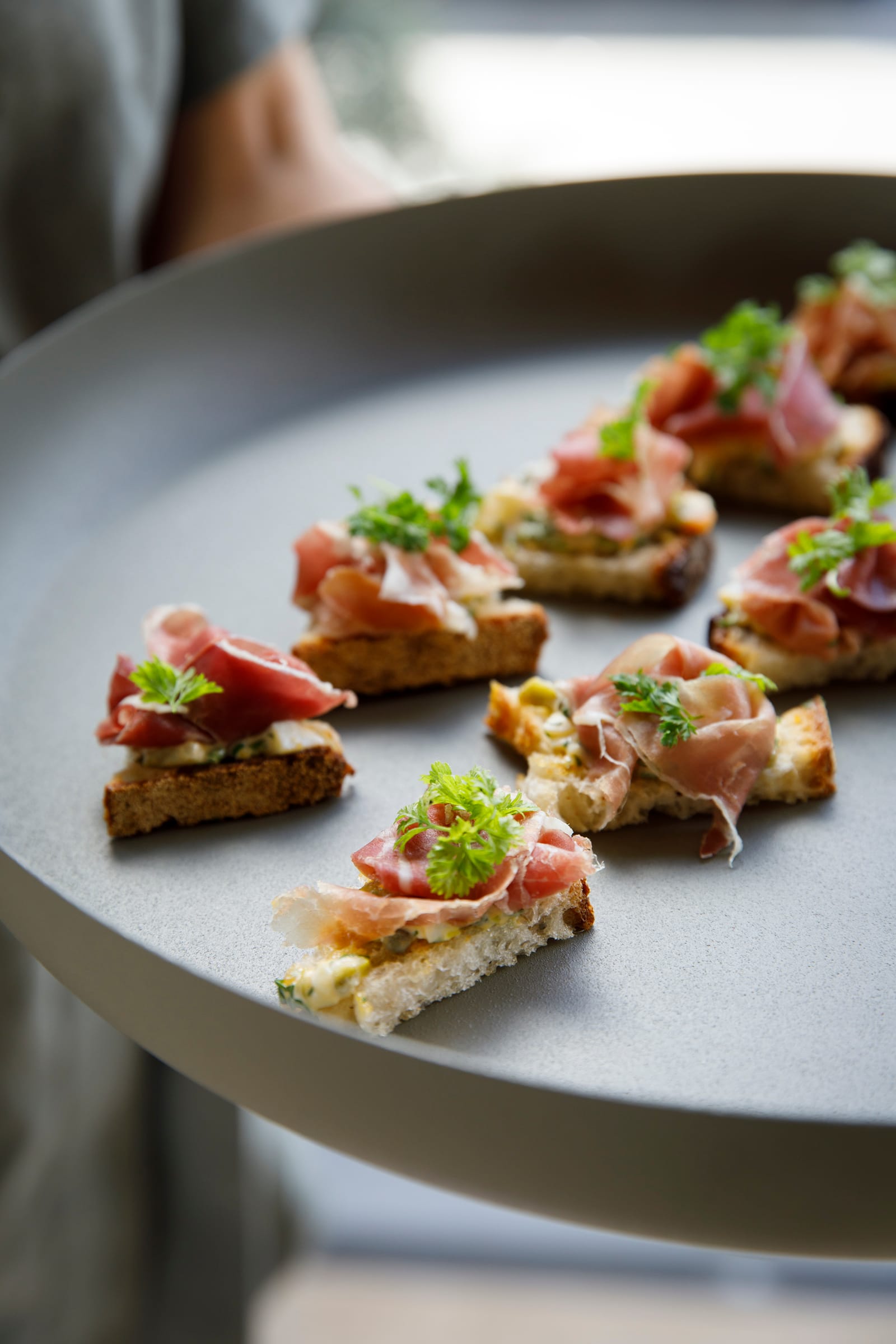 Prosciutto and gribiche on toast By Neil Perry, Rockpool
Sour dough toast
1 loaf of amazing sourdough, cut into roughly 5x5cm pieces
Rub with some olive oil and char on a grill plate till golden and crispy

Gribiche Ingredients
100ml Fresh Mayo
4 hard Boiled eggs, diced
20g parsley, chiffonade
20g cloves, chopped
50g Cornichon, diced
20g Capers
Drop of Tobasco
Olive Oil
Black Pepper
Mix all ingredients together in a small bowl and check seasoning. Set aside.

Once the toast is ready, pile on the gribiche, add the thin slices of San Daniele prosciutto and garnish with fresh chervil.
Tsukune Chicken Meatball by Eazy Peazy
Tsukune "meatball"
1.5kg minced chicken mince
300g white onion, diced and rinsed
125g Nama panko
150g Shio koji
12-15cm skewers
Mix the shio koji and chicken mince in a large bowl, cover and let sit in the freezer for minimum 30 minutes. Once rested for 30 minutes, add the panko and onion, mix well. Weight out each portion to a 50g ball. Wet your hands with a little bit of water and mould the chicken mince ball around the skewers. Allow to rest for a further 15-20 minutes in the fridge before char grilling. Yield – 40 skewers

Tare sauce
500g chicken bones
125g leek tops (or 1 medium leek)
125g ginger
560ml sake
470ml mirin
310g zarame sugar
625ml soy
190ml tamari soy
Place the chicken bones on a large roasting tray and roast at 220 degrees until golden. In a large pot, place the sake and mirin and bring it to a boil. Once boiled turn off the heat completely. Add the zarame sugar and stir until completely dissolved. Add the chicken bones, leek and ginger and turn the heat back on, bring to a simmer and simmer until everything turns golden. Add the soy sauce and tamari soy, simmer for a further 15 minutes. Skim off excess fat from the top and turn off the heat completely. Let this sit for 30 mins, then place the whole pot inside the fridge and allow to sit over night. The next day, pass through a fine strainer with some filter paper. Serve with the grilled chicken meatballs. Yield – approximately 1.5L of sauce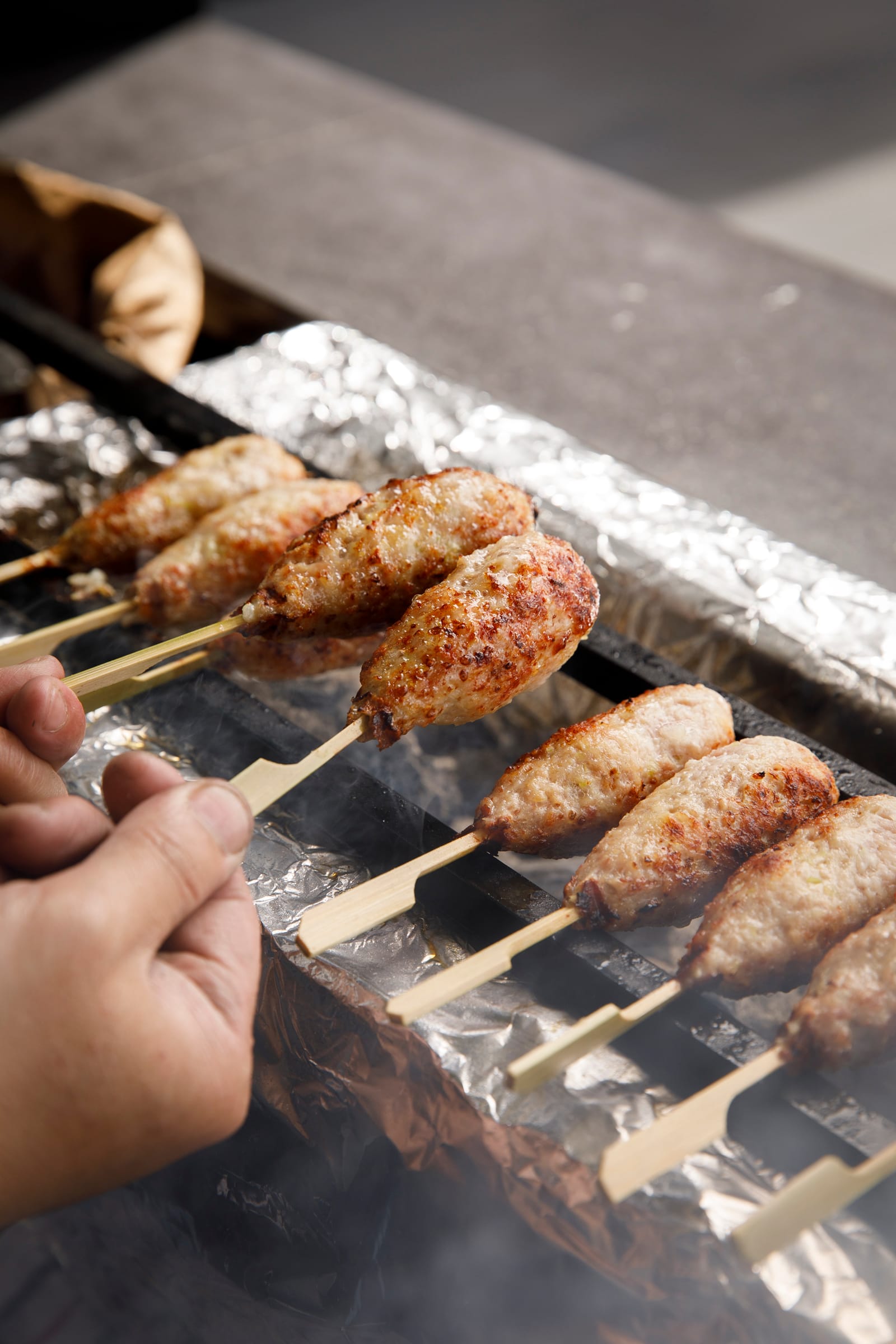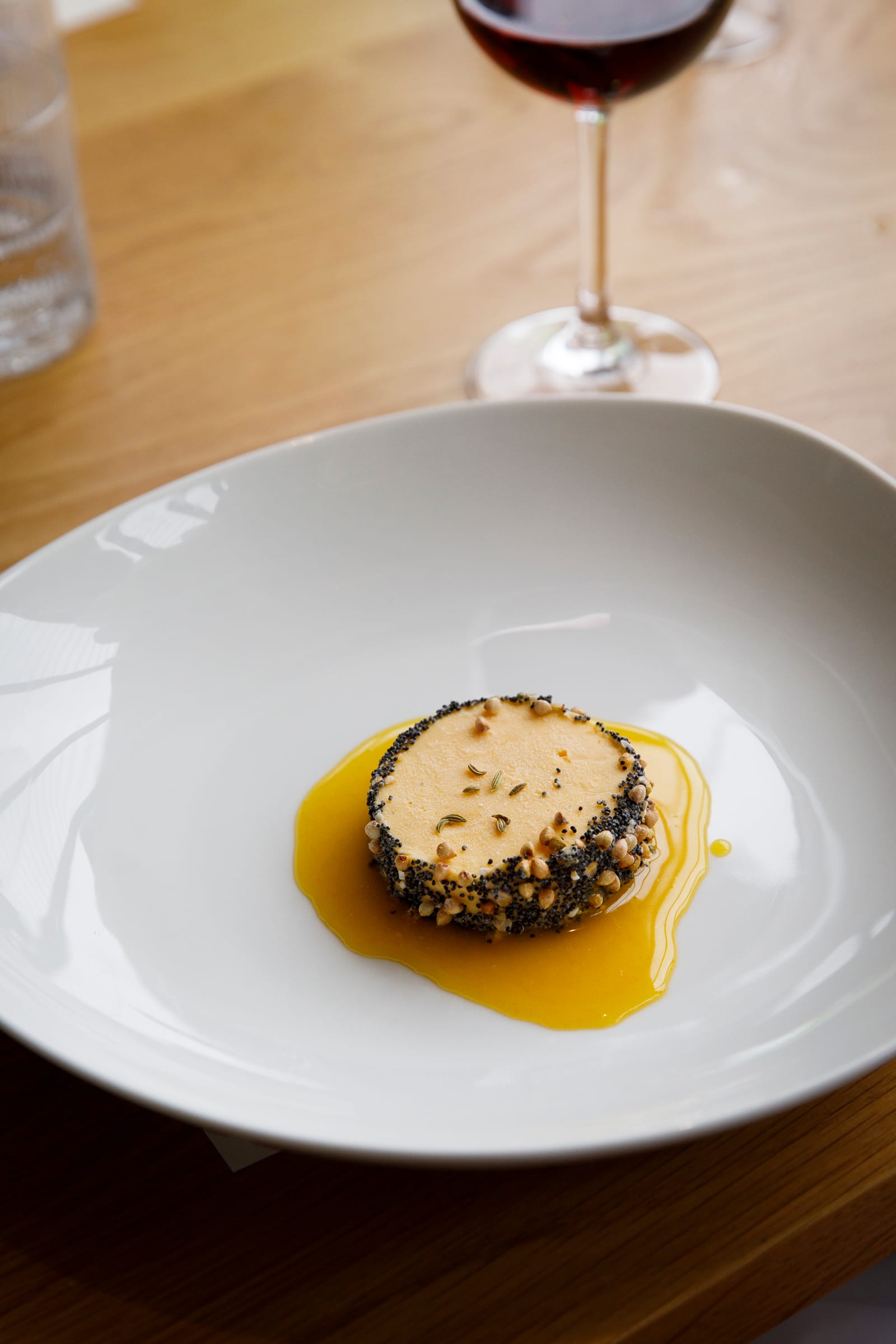 Gin Orange Parfait, Tangelo and cultured butter By Oakridge
Orange Puree
500g orange
100g Gin (Four Pillars)
Water to cover
Place whole oranges and gin into a pot and cover with water. Bring to the boil and simmer for 1 hour or until the orange is cooked through and soft. Remove the orange from the water drain any excess water and place in the blender. Blend until smooth then set aside to cool completely allowing excess steam to escape.

Crystalised Poppy seeds and Buckwheat
80g poppy seeds
100g toasted buckwheat
50g sugar
10g water
Toasted fennels seeds to garnish last ( set as side )
Place water then sugar into a wide based pot. Gently agitate and evenly bring sugar to 118degrees. Once at temperature add buckwheat and poppy seeds stirring to crystalise. Pour onto a tray to cool.

Tangelo and cultured butter sauce
2 Large Tangelo, Juice and zest
45g glucose
360g sugar
100g cultured butter, cold
Place juice and peeled zest in a pot with the sugar, bring to a simmer and reduce by a quarter or when it begins to slightly thicken. Strain and whilst still hot whisk in the cold diced butter to thicken.
Gin Orange Parfait
100g whole orange pure
4 yolks
125g castor sugar
1 tsp lemon juice
250g crème fraiche
80g cream, whipped
1 teaspoons vanilla seeds (1/2 pod)
Spray a large, deep baking tin or tray, choose one the thickness you want your parfait to be at the end, as you will be cutting discs from it. Spray with oil spray and line with clingwrap making sure you have a slight overhang and the wrap is pressed flat and into the corners on the tin.
You will need a medium saucepan with a small amount of water in it, and a large bowl that fits over the pan.
Place the pan of water on the stove and allow the water to come to a gentle simmer.
Whisk yolks, sugar and lemon juice in that medium bowl that fits over the medium saucepan, until pale and thick. Remove from the heat, add the vanilla and continue to whisk to cool slightly.
Gently fold in the cooled pureed orange (discard any excess water that may have formed), then the crème fraiche. Once combined, fold in the whipped cream. Then pour into lined loaf tin. Place in the freezer until frozen or even better, overnight.
Once frozen, cut portion with circle cutter (6cm diameter). Roll outer edge in crystalised poppy seed and buckwheat. Top with a pinch of toasted fennel seeds.
Footnotes
1.
Our goal is to provide you with recipe ideas. Please ensure you check against known allergies before making and serving these recipes. We cannot be held responsible for any adverse reactions.